Been watching this rock solid heart disease study unfold over 14 years.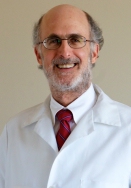 It has an utterly astonishing finding. Dr Robert Schneider's team compared Afro-American heart patients who did Transcendental Meditation, to those who received  a cardiovascular health education programme, including diet, exercise and relaxation. The TM group had a 48% reduction in "clinical events" i.e. deaths, heart attacks or strokes over 5 to 9 years:
Watch Dr Robert Schneider outline the National Heart, Lung and Blood Institute-funded study in this short youtube. It has profound implications for heart disease high-risk populations, including South Africans.
"Cardiovascular disease is the leading cause of death and serious disability in the developed and developing world." says Dr Schneider.
Actually, heart disease seems to be just one South Africa's leading causes of death. It's behind AIDS; though the Heart and Stroke Foundation of South Africa's data would have us infer that over 200 people die PER DAY from some form of heart and blood vessel disease (i.e CVD) .
"This is the epidemic of our time. Drug treatment has been ineffective in preventing the epidemic, so we've been looking for new ways to prevent heart disease and treat it  … heart attack, death and stroke can't be faked, and the results showed a 48% reduction in the TM group compared with the controls who received usual care, including health education. The TM group also showed reduced SBP and anger compared to the controls."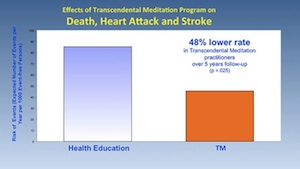 Take note of this amazing heart disease research from top institutes: the Medical College of Wisconsin and the Institute of Natural Medicine and Prevention of Maharishi University of Management. The study took 14 years, started with screening of 451 subjects, and has just been published in the American Heart Association journal: Circulation: Cardiovascular Quality and Outcomes.
Dr Schneider shared with me the intricate controls for the multitude of variables that can confound a big study (N=201) like this. Also details and pitfalls of the publication process where Transcendental Meditation is involved.
We live in an age when drugs represent the prevailing paradigm. So it is significant that the study is published by a prestigious journal. Further, that independent analysis of the data by Dr Bruce Barton at the University of Massachusetts Medical School confirmed the findings.
The improvements were of the same order as conventional drug therapies, yet the participants in the study were ALREADY receiving drugs and other assistance. So this really amounts to a breakthrough in the management of cardiovascular disease – heart disease. This study just may represent what Thomas Kuhn refers to as "revolutionary science"  in his landmark pub: "The Structure of Scientific Revolutions."
The American Heart Association report is here:
http://newsroom.heart.org/pr/aha/meditation-may-reduce-death-heart-240647.aspx.
Read the abstract of the actual study here. It'll cost you $20 to get the study, so it doesn't come cheap! Else contact me and perhaps I can fix you a pdf.
Finally, if you are a scientist, you may enjoy this post here, where Dr Schneider responds in detail to some cynicism from a quasi-scientific journalist. Very interesting!
For more information on Transcendental Meditation and how it can help you prevent heart disease, or to be invited to a FREE introductory talk in Houghton-or in any major centre-use the contact form top right 

⬈

or call us at 011 483 0685