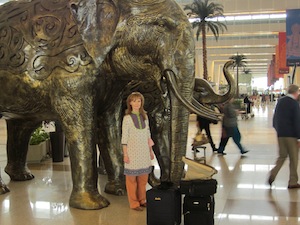 Meditation is not something one associates with travel and airports. But the combination of stress and forced waiting time – "hurry up and wait" – actually creates a unique opportunity to practice Transcendental Meditation.
Take our recent trip through Delhi International Airport for example. Far the busiest in the region, Indira Gandhi International Airport  currently handles 36 million passengers per year with a capacity of 46 million – and 100 million by 2030. That's huge!
It is located 16 kilometres southwest of the city centre on over 5200 acres administered until a few years ago by the Indian Air Force. It was rated second best airport  in the world in 2011 by Airport Council International, for airports between 25 and 40 million passengers per year.
Its a very busy place and at 7 in the morning the domestic terminal 1d is a hive of activity.
We were about to board a SpiceJet Bombardier turboprop flight to Jabalpur, and had had few minutes before our boarding call. So Vicki and Mignonne decided to meditate.
But will they Transcend?
Luckily Transcendental Meditation does not need silence to meditate!
TM is a meditation practice that is suitable for householders in the world. It does not require any change in lifestyle, belief or diet. It is easy to learn and effortless and enjoyable to practice.
Most meditation practices require a quiet place, but Transcendental Meditation works even in an unsettled place like an airport. This is because it uses the mind's natural tendency to settle when you create right initial conditions.