ATTENTION ALL LOVERS OF PEACE AND QUIET
Did you know that stress and strain gets into the walls of hotels and BnBs? Sensitive folk can feel it.
Here's the problem you face: You take a holiday in a new place – and its great, even if a little crowded and noisy. But the rest you gain is so superficial that it wears off. Which means that two days after you get back to work you're fried again.
Worse still, they put you in a room near the bar. And there is loud conversation. And people standing outside your room making cellphone calls late at night.
Or even if it's quiet, it's hot, because you are down in the valley. And the mountains are so far away you can only just see the 'berg through the KZN haze.
Luckily there is a solution. Let me introduce you to the Drakensberg Capital TM Academy. You will find it a very special retreat and place to unwind. Come for a midweek 'berg break or a weekend break. Its a wonderful and very effective way to assuage the pressures of life. To revitalise and refresh yourself. You'll feel ready to tackle anything afterwards.
It is cool and silent – better than quiet. Just occasional birdsong, and home to thousands of hours of deep meditation.
THIS IS WHAT YOU CAN DO
Relax, have fun and find yourself
Enjoy walks and hikes to waterfalls and rock-pools in the mountain air.
Be fascinated by the rich variety of birdlife. There are over 150 species – plus huge raptors at Falcon Crest Bird of Prey Centre almost next door.
Take thrilling sorties into the valley for great eats, golf courses, and scores of crafts outlets. Check out Thokozisa and world-famous Ardmore Ceramics
Savour the stillness and magnificent atmosphere of the Drakensberg
Understand the purpose of life and your place in the Universe
Reconnect with yourself in such a beautiful location
Arrive under a cloud of fatigue and float out on a cloud of revived energy and goodwill
Ride horses, river raft, quad bike, mountain bike, abseil, glide, fish, take helicopter rides
Visit the Anglo / Boer War battlefield sites of Spioenkop, and Winston Churchill's capture and ambush site
Enjoy stunning views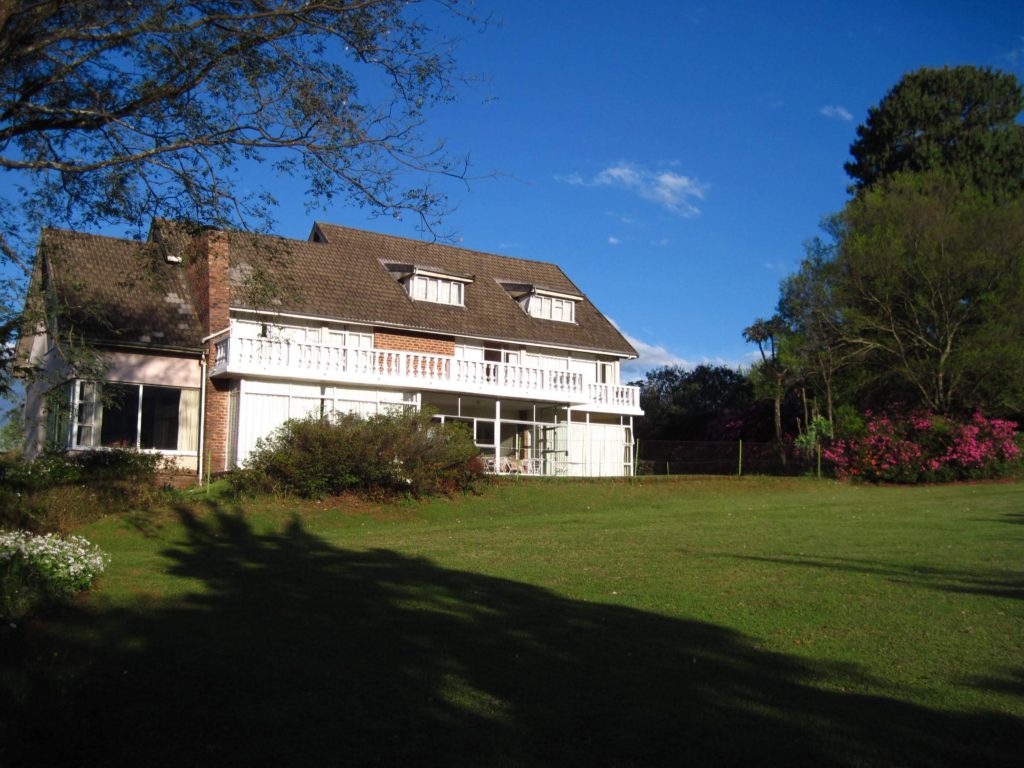 The property is a big house set in a well-maintained garden set on about 30 acres. It's located about 100 meters before arriving at the Champagne Castle Hotel. If you don't know it, the hotel is on the edge of a wilderness area, right up against Champagne Castle, in the Drakensberg near Winterton. It is owned by the organisation that presents Transcendental Meditation in south Africa. It is used for meditation retreats and as a spa several times a year.
The rest of the time it is available for your exclusive use. You can book for a night or longer
THIS IS WHAT YOU GET
It's only about a 4 1/2 hour drive from Joburg and only 1 3/4 hours from Durban.
All but the last 3/4 hour on freeway. Good tarred road from the offramp. Very shortest route saves you 20 minutes and involves 7 km of gravel road.
You can bring just yourself, your family, or up to about 20 guests
All main rooms have mountain views ranging from great to fantastic
One bedroom has an ensuite bathroom. Two more share a single bathroom. The other 12 rooms share 5 facilities.
Resident staff will prepare the house for your stay, and lay on a cook to cater for you, if you require.
You will need your own nosh and bed linen
Ample shopping is available about 5 minutes drive away at Dragon Peaks Caravan Park store, and
Cedarwood shops are about 10 minutes away
The house is fully carpeted and very comfortable and dignified, though it's not 5 star accomodation.
Head over and bring your family for a divine private break in the mountains with unbeatable views.
Central Drakensberg Tourism puts it like this: "… it is the enchantedness of the Champagne Valley that draws visitors away from city stressors to escape to a place of rare beauty that manages to remain almost entirely unaffected by development."
"It is such a wonderful experience to leave every-day's life and reconnect with yourself in such a beautiful location." – Julie
"I really enjoyed my experience here, thank you, I got deep rest and relaxation." – Lindsay
"Nice quiet place…beautiful surroundings and vista." – Solomon
"Wonderful" – Kelly
So summing up, here is a place you can call your own and enjoy deep rest and relaxation in silence and comfort in the mountains. It's not too far away from Joburg and close to Durban. Room rates start at R450 per adult per night. See below for details.
Book or get info on availability and prices by calling Johnny Fenner on the property at: 076 741 0701
If no reply, call Julie on 011 483 0684
RATES
Adults and teens – R450 pn. Staying for more than 7 days? Call for a special price.
Children under 13 – R200 pn
Babies under 3 – free
Hire in cook/cleaner R160 pd
Laundry – R50 per load (done for you)
HOUSE RULES
This is the part where we ask you to fit in with some lifestyle points. They help to preserve the divine atmosphere of our great big comfortable house with fantastic views of Champagne Castle.
No alcohol or smoking inside the house, and no recreational drugs on the property
Please braai outside – we don't cook meat inside the house
Please leave shoes at the foot of the stairs – no shoes on in the house
BONUSES
Deep deep silence. Guaranteed
Close up views of Champagne Castle. Guaranteed
GUARANTEE
Not only do we guarantee you get deep silence and riveting views of grand Champagne Castle and foothills, but if its not an easy drive from Joburg and easy peasy from Durban, if you were not greeted warmly by Johnny, if there were dogs barking across the valley that worried you, if the beds were not comfy, or if you did not find the big house dignified and comfortable, we don't need your money – we will refund you without hard feelings.
BOOK NOW
Book or get info on availability and prices by calling Johnny Fenner on the property at: 076 741 0701 during reasonable hours.
If no reply, call Julie in Joburg on 011 483 0684 weekdays 10 am – 4.30 pm.
PS You are going to love the peace, the silence, the views, the walks and the ambience.
PPS Bird lovers – the world-famous Falcon Ridge Bird of Prey Centre is a 10 minute walk away form you below the house.