"Incredible India" is the subject of Indian Government Tourism ads. And it is INCREDIBLE.
So what could be better than to visit India to meditate.  And network with a bunch of your fellow TM Meditators and Sidhas from South Africa and around the world? And then go around and see some of the tourist highlights?
This is what one delegate said about the trip last year:
"I am so grateful that you suggested that I go to the Brahmasthan–I really had the most wonderful time. I feel so refreshed and energised. I have been continuing with the programme here at home and loving it."
So how about joining us for a visit to meditate at the Brahmasthan of India for a week ? Next year Feb 22-29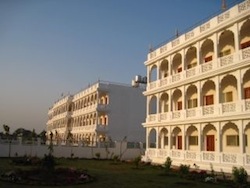 You may already know the value of rounding. Doing it in a facility
designed and purpose-built for deep experience of meditation is better. And in the vicinity of the Vedic pandits and most precious traditions of India it is absolutely sublime.
"It was an awesome experience."
"This has truly been one of the best weeks of
my life.I will keep my memories of the Brahmasthan close to my heart (and look forward to supporting you in realising Maharishi's vision for world peace)." 
Visit India to Meditate with Maharishi's Vedic Pandits
We will be holding an information talk about this tour at the centre soon.
Richard will tell you a bit about the SA group's amazing experience of the Brahmasthan, and why we are heading back for the fourth time next March. When you meditate in the vicinity of Maharishi's Vedic Pandits you will know for yourself.
If you decide you'd also like to come – you need to book and arrange your
own travel. The whole thing is fantastic value for money.
For more information visit the Brahmasthan website. You are free to make your bookings
online for any date, subject to availability. But the date that we
have made a block booking for – we will all be together – is the week
starting Mon 22 Feb 2016.
The idea is to make your own bookings for both travel and the
Brahmasthan – we will recommend travel agents that served us best this
year. Or you can just do it online with Emirates or SAA.
We will travel Emirates. Fly 8 hours to Dubai, sit comfortably in the
stunning airport for about two hours and then fly Emirates to Delhi.
You arrive about 3 pm local. Then sleep over at a hotel near the airport
and leave very early next morning, flying for two hours to Jabalpur.
We will all be met at Jabalpur and be driven about two hours to the
Brahmasthan – about 57 km northeast of Jabalpur.
Your alternative is to fly SAA to Mumbai.
Our role is to inspire you to do the trip and to answer questions.  We will
guide you and make sure there are enough rooms available for the SA
group at the Brahmasthan. We do not wish to do everyone's travel
arrangements, and we will not be the course leaders at the
Brahmasthan. There are better people than us to do both these things!
Please call 011 483 0684 or email to let us know if you would like to be invited to the info session on a Thursday at 8 pm soon.
All Bliss
Vicki and Richard