Drakensberg Meditation Retreat
This is an invitation for you. Take some special time out to invest in a meditation retreat for yourself.
Join us in the mountains for a meditation retreat held around major holidays few times a year. Or take your family for a private break at unbeatable prices.
Call Julie now on 011 483 0684 for availability and prices.
You will find a TM residence course a very special meditation retreat. Its a wonderful and very effective way to assuage the pressures of life and revitalise and refresh yourself.  You feel ready to tackle anything afterwards.
The whole TM residential course is a meditation retreat lovingly structured by Maharishi to maximise your personal growth. You'll experience enlightened moments as you relax, have fun and tune into your own inner truth.
And could there be a finer environment than this? Enjoy rapid evolution in the beauty, stillness and magnificent atmosphere of Champagne Castle in the Drakensberg.
And at these prices it's a very inexpensive holiday too.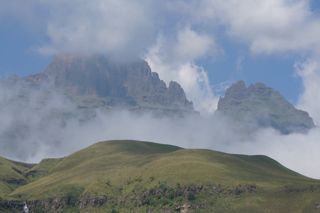 Savour delicious, freshly prepared, Ayurvedic meals. Course participants describe the catering as nourishing and satisfying.
Do extra meditations and yoga over a number of days.
Enjoy walks in the mountain air and beauty of Champagne Castle, a truly stunning environment that makes it easy to live in the moment and feed your spirit.
Participate in enriching lectures, tapes and discussions. Understand the purpose of life and your place in the Universe.
The main benefit of this meditation retreat is the concrete silence you experience in your own Consciousness for weeks afterwards.
MEDITATORS DESCRIBE THEIR MEDITATION RETREAT
"It is such a wonderful experience to leave every-day's life and reconnect with yourself in such beautiful location." – Julie
"I loved every moment. It was uplifting and I reconnected with myself again." – Marisa
"Thank you for holding the space in which I could simplify and clarify what is really important to me." – Sanlia
"Enriching Blissful." – Beatrice
"I really enjoyed my experience here, thank you , I got deep rest and relaxation." – Lindsay
"I enjoyed it immensely." – Anthea
"Loved every minute of it" – Timmy
"Very relaxing. Programmes were good in general and a lot of tiredness came out." – David
'Fantastic! I feel that a major shift has happened in me and that this course is responsible for a huge turning point in my live, and for this I thank you!" – Grant 
"Thank you for providing such a safe space." – Roxanna
"This is the start of a new chapter in my life." – Salochanee
"I am a new meditator, after this retreat I hope to be part of the TM family for eternity." – Gail
"I will always cherish these few days and the people I met here on the retreat. Look forward to attending another residence course soon." – Marli
"I cannot think of any other holiday that could have done this for me in 4 days." – Sikhumbuzo
"I arrived under a cloud of fatigue. I floated out on a cloud of revived energy and goodwill. Thank you." – Lynne
"I loved the balance between individual and group TM practice. I gained a great deal from the tapes and discussions and benefited immensely from the Ayurvedic food." – Lee
VENUE:  Drakensberg Academy in Champagne Castle near Winterton, KZN.
Our great big comfortable house with fantastic views of Champagne Castle. Its about a 4 1/2 hour drive from Joburg and only 1 3/4 hours from Durban
Call Julie now on 011 483 0684 for availability and prices.
HOW TO GET THERE? GPS Champagne Castle Hotel. Transport can also be arranged through The TM Centre.  We can send you a pdf map. And hey! You have just GOT to see this panorama. Simply stunning-it conveys a sense of what its like to walk in the area.