This post celebrates the inspirational quotes read out at the candle lighting held at the Houghton TM Centre on Thursday 6 December 2012. We thank the sources of these quotes as we are unable to trace their exact origins. Many of the Maharishi quotes and sayings are very well known to the family of meditators and appear in print in various places. But they all illustrate universal truths uttered by giants of the soul.
"Throughout the ages, the wise have sung the glory
of God — that God created man in His own image, and that it is not necessary for God's children to suffer." Maharishi Mahesh Yogi– Edinburgh — 1974
"About humility we speak with an analogy: When the branches are full of fruit, they just bow down."  Maharishi
QUESTION — from Belgium.  Your Holiness what governmental system is best?
MAHARISHI — "That which makes the people follow the Will of God.  In every religion, the path to God-realisation —  by doing good in every way through quiet prayer, quiet prayer.  In these days we call it Transcendental Meditation. Quiet prayer. In every generation, enlightened people have been there throughout time.  They are in the world throughout time but that is always through transcending and using full brain
potential.  That is the only way.  That is the only way."
This next quote is one of my favourites: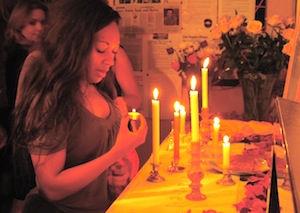 "Enjoy your life and be happy. Being happy is of
utmost importance. Success in anything is through happiness. More support of nature comes from being happy.
Under all circumstances be happy Even if you have to force it a bit to change some long standing habits. Just think of any negativity that comes to you as a rain drop falling in the ocean of your bliss.
You may not always have an ocean of bliss, But think that way anyway and it will help it to come. Doubting is not blissful and does not create happiness. Be happy, healthy, and let all that love flow through your heart." Maharishi – Maharishi Nagar, India – January 1987
Now we also have some wonderful words spoken by Maharishi's master, who we refer to as Guru Dev, translated from Hindi:
"To get a human body is a rare thing – make full use of it. There are four million kinds of lives which a soul can gather. After that, one gets a chance to be human, to get a human body. Therefore, one should not waste this chance. Every second in human life is very valuable. If you don't value this, then you will have nothing in hand and you will weep in the end. Because you are human, God has given you power to think and decide what is good and bad. Therefore, you can do the best possible kind of action. You should never consider yourself weak or a fallen creature. Whatever may have happened up to now may be because you didn't know, but now be careful – After getting human body, if you don't reach God, then you have sold a diamond at the price of spinach." Brahmananda Saraswati repeating words written by Shankara.
Now in a very similar vein, some words from the Buddha, quoted by David Hawkins in 'The Eye of the I':
"Rare it is in the universe to be born into a human lifetime; rarer still is it to hear of the dharma; rarer still is it to accept the teachings; rarer still is it to act on the teachings; and even rarer still is it to realise the truth of the teachings." To even hear of enlightenment is already the rarest of gifts. Anyone who has ever heard of enlightenment will never be satisfied with anything else." Gautama Buddha
QUESTION — "Isn't this process of self-realization selfish in that one is concerned with one's own self?"
MAHARISHI — "The process of self-realization is absolutely a selfish process!  It is the most exalted selfish process of human existence. Having pursued this channel of absolute selfishness one gains the greatest ability of helping others. Unless one becomes wealthy oneself, one cannot help the poor. The process of becoming wealthy is a very selfish process indeed, but it eventually leads one to help others."
QUESTION — … the situation in my country (Israel) is not so good. The Israeli Government has not yet adopted the idea of starting a group of Yogic Flyers. What is the best thing I can do in the current situation for myself, for my country and for the world?
MAHARISHI — "Practise Transcendental Meditation quietly at home. When it is all dark everywhere you can have a lighted lamp in your room, in your house and live in light!" 
"The only way is: Save yourself! Save your mind! Save your intellect! Save your time! Practise higher states of consciousness!"     <—- TWEET THIS!
Now Maharishi speaks on effectiveness:
"Naturalness is the basis of effectiveness. If one  poses to be something else, one loses the charm of naturalness.
The result is that one accumulates a stress. We do not think of life — we live it. We do not think of ourselves too much. We do not think of others too much. We just behave in a natural way. Don't make moods — wonder what anyone thinks of us. We do not live life on the remarks of others. It is enough that we are naturally helpful to others.
What others think of us is not our concern — it is their concern. If we are weak, we will always put ourselves at the whim of others. We do not base our lives on the opinions of others. But if we are not clear in our
conscience then we will always be weak and will always mind the looks and remarks of other people.
It is the weakness of individuality if it always looks to others. It is important only that we radiate life. Every individual must be a joy to himself, to his family, and to his society." Maharishi — Kössen — September 1971
And again about effectiveness:
"That action and reaction are equal is a scientifically established truth. You react to someone in a certain way and he, in turn, will react to you in a similar way. If he does not react to you, then nature will bring you a similar type of reaction.
If you hurt someone, even if he himself does not react, other agencies in nature will bring the reaction of your behaviour to you. It is a law of nature that as you sow, so you shall reap.
In whatever way one wants the surroundings to react to him, his behaviour toward the surroundings must be in accordance with that. This is the fundamental principle of making the best use of one's surroundings…" Maharishi
We hope you have enjoyed these inspirational quotes and Maharishi's quotes and sayings as much as those of us lucky enough to have been at the candle lighting with Vicki …